I recently purchased a new blush that has been known pretty much far and wide across the beauty community! All the reviews I read about Hussy blush from Illamasqua had great reviews and Make Up Alley users scoring it 5/5 etc with at least 15 people saying nothing but good things. When something sounds this good, usually it's hard to believe. But not only was I armed with cash, but also the
desire
compulsion to try out Illamasqua as a brand; I had never tried anything from them before.
The Brand/Background
Illamasqua are known for their highly pigmented products because they're a 'stage' make-up type brand. So before I bought this blush I already had this idea that their products would have a length lasting power; which is what everyone wants, don't they? I don't like the idea of touching up throughout the day (especially not blush)... so I thought what the heck and bought this product.
The juicy part:
This is the product in all it's glory (pictures ARE NOT doctored, so you can see original colour!). I usually apply this product with my travel size Chanel blush brush which is quite dense; I'm not sure it's the perfect brush for this blush but it gives the results that you see in the demo picture!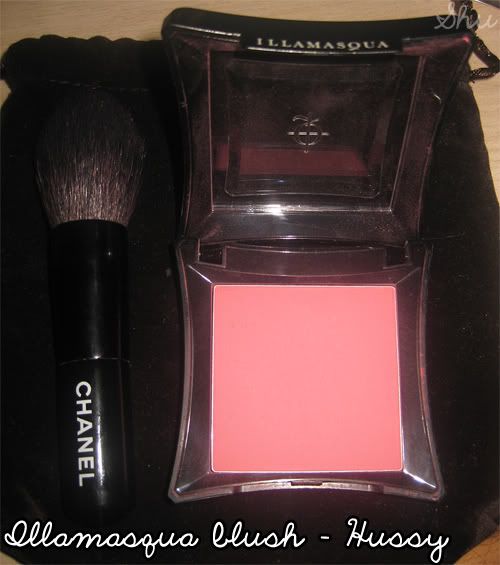 Here's how the blush performs on my skintone: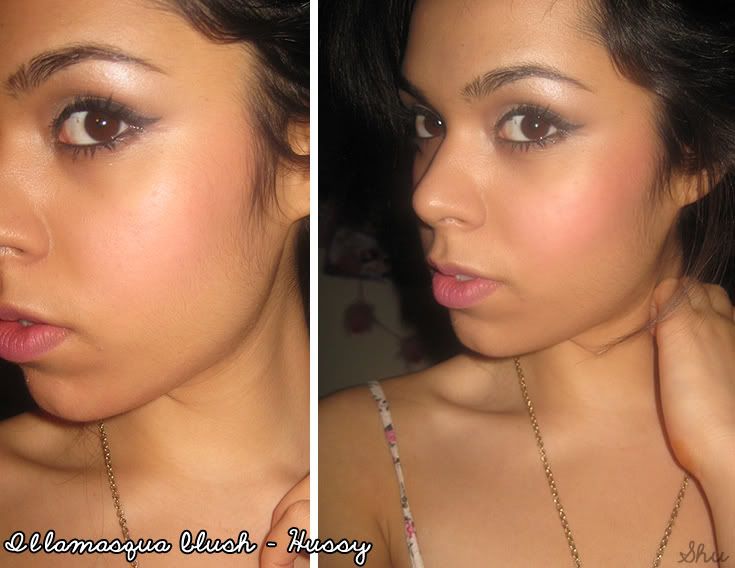 My opinion:
Do I like it? ... do I like it? I L-O-V-E it. Admist all the hyped products you see, this is one that I believe you should reach for if you're looking for the perfect coral/pink blush.
I have tried Coralista, Peachykeen etc all the C/P blushes under the sun but this one wins tenfold and is my HG. The lasting power of this blush is great, I'm not sure how many hours it wears for exactly (who times that kind of thing? >_>) but I know it lasts a mile longer than my MAC blushes or any other brand for that matter. Pigmentation is SUPERIOR to NARS, not even joking here, and we all know how amazing NARS' blushes are.
You know how you get an oily film over your MAC blushes after you've used them for a while? Well with this blush it is so pigmented you sweep your brush over the plan and you get power straight off with a light handed swipe so you don't rub your brush into the pan just to get colour out. With a light hand you get the EXACT result as you see in the above pictures.
I actually dare you to recommend me a pink/coral blush better than this.
Verdict:
♥ ♥ ♥ ♥ ♥
5/5 for me
Bravo.
Worth the hype.